Theme of the Week
Mental Health and Wellbeing
Exam Countdown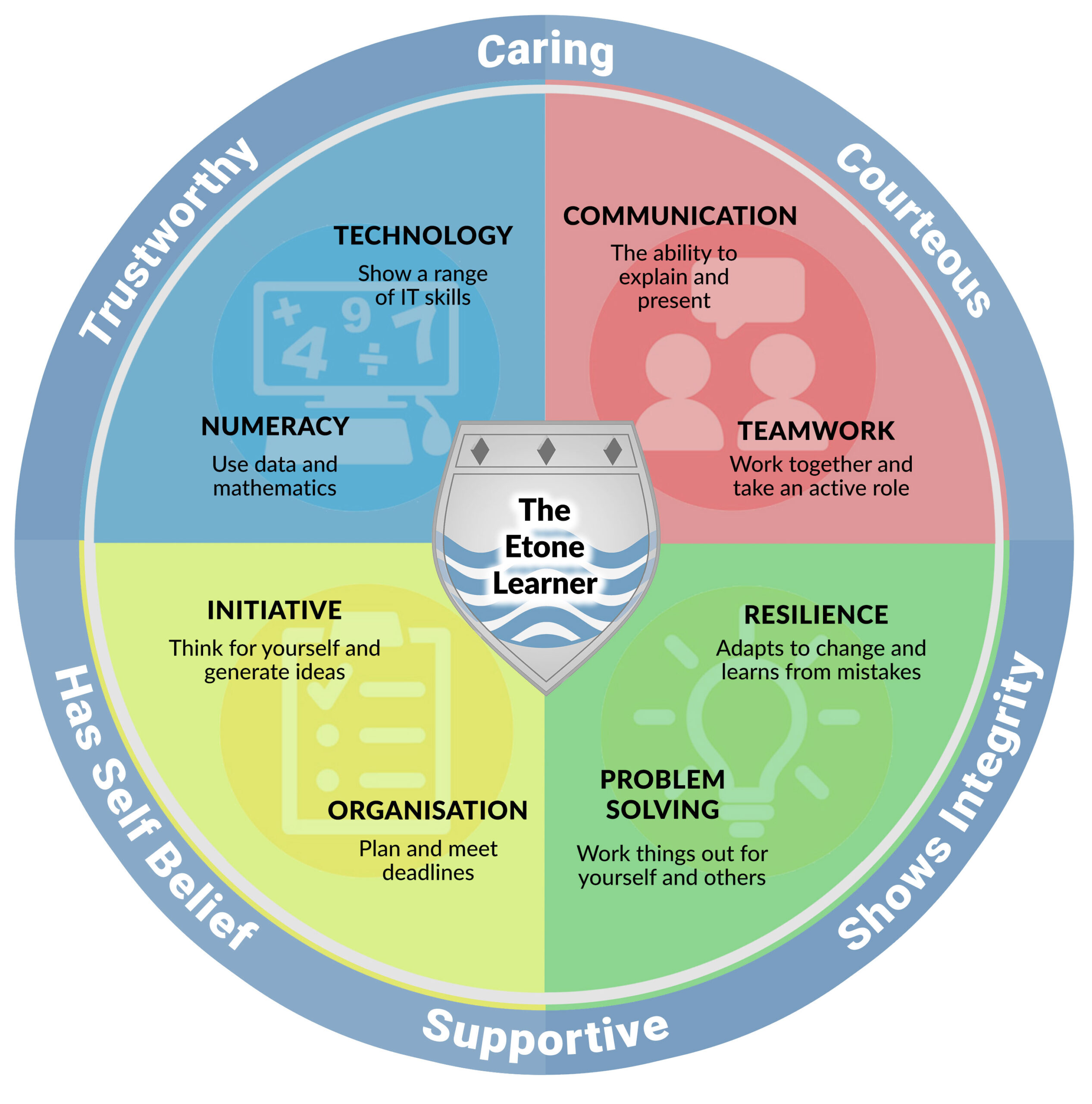 Each week Etone College recognises a different theme – this is known as our Theme of the Week. The Theme of the Week recognises important local, national and international events as well as linking into our Learning for Life programme which delivers Relationships, Sex and Health Education as well as Citizenship, RE and Careers. The theme to start the year was what is means to be an Etone Learner with a focus on employability skills, values, expectations and aspirations. The Etone Learner shows the key employability skills that pupils will develop whilst at the school and the core values that we promote.
In the Autumn Term, pupils recognised Roald Dahl Day in English and learned about the importance of Jeans for Genes in Science. The History Department celebrated Black History Month in October and MFL carried out events to recognise the International Day of Languages and how languages are important for us all. In Maths pupils learned about Ada Lovelace and recognised World Food Day through Create. We also taught pupils about the very important Restart a Heart Campaign through Science and assemblies. Each House also launched its House Charity - details of the charities that we are supporting can be found below – and we are looking forward to welcoming guest speakers from our charities later this term.
The second half of the Autumn Term showed our pupils are true active citizens. We were incredibly proud of their generosity and kindness and how they demonstrated their active citizenship. Pupils wore odd socks to raise awareness of Anti-Bullying Week and recognised World Kindness Day through carrying our random acts of kindness. They showed themselves as caring members of the community by donating food to the local food bank and toys to the Salvation Army – both of which made a genuine difference to people's live at Christmas. They wore non-uniform and Christmas jumpers to raise money for Children in Need and Save the Children respectively – details of the amount raised can be found on our charity totalizer page. They also learned about how different faiths around the world carry out celebrations and created beautiful pieces of work to recognise Diwali in Create.
This term we have continued to promote our Etone values and Fundamental British Values. Our Etone value for Spring 2 is self-belief – having the confidence to achieve your goals. Pupils also considered how important it is not to discriminate and reflected on this as part of our remembrance for Holocaust Memorial Day. As part of this, we discussed individual liberty and the importance of respect and tolerance for other faiths and beliefs. Pupils also focused on wellbeing as part of Children's' Mental Health Week and learned how to stay safe on line through Internet Safety Day. This update just gives a a flavour of our Theme of the Week so far this year. We are looking forward, next term, to focusing upon the importance of charity and active citizenship as well as learning about different faiths in assemblies. We will recognise Fair Trade fortnight and are excited to celebrate the 25th anniversary of World Book Day.
A copy of our Theme of the Week for this term can be found HERE.