Students in years 7 and 8 have started the new college year with the thrilling offer of a free book! Book buzz is a reading programme for pupils aged 11-13 to support a love of reading. It is run by the charity Book Trust and every year, Etone College participates in this programme to provide an exciting new book for nearly 400 students!
With 17 books to choose from, there is a wide selection of titles in both fiction and non-fiction including magical mysteries and murder mysteries, intense adventures, thrillers bursting with twists and turns, spectacular sci-fi, dystopias and double agents, time-travel, motivational books, sport, animals and comedies.
The range includes dyslexia friendly titles, quick reads, graphic novels and both fact and fiction. Here's a strange but true fact! Did you know that some spiders have their brains extended in their legs? Did you know that some people dream in black and white? That the Earth hums? Fun facts await those who prefer non-fiction! Historical fiction titles include events such as The Blitz and also the sinking of the large luxury liner, The Titanic with the loss of over 1,500 lives.
Lots of the books include coming of age plots and the relatable themes of friendships and fitting in and building our self-esteem and identity. Marcus Rashford's book is perfect for developing ambitions and boosting your self-confidence.
 Established authors feature widely in this year's books including Lauren St John, Fleur Hitchcock, Phil Earle, Anthony Horowitz, Jason Reynolds and Lisa Thompson. Pupils are currently watching a persuasive video from each author who discusses their inspiration for writing the book and a few teasing clues to the genre and plot.Pupils are advised to choose different titles to encourage swaps and reading as many as they wish to play Book Buzz bingo. All titles are quizzable in Accelerated reader lessons and multiple books read and quizzed will be rewarded with house points, chocolate and other prizes. There is also a new Book Buzz challenge card with cross curricular tasks which will be rewarded with book and puzzle prizes. Could you turn your book into a graphic novel? Or create a film poster for your book buzz film? Send a question to the author? Perhaps design a game based on the plot or facts?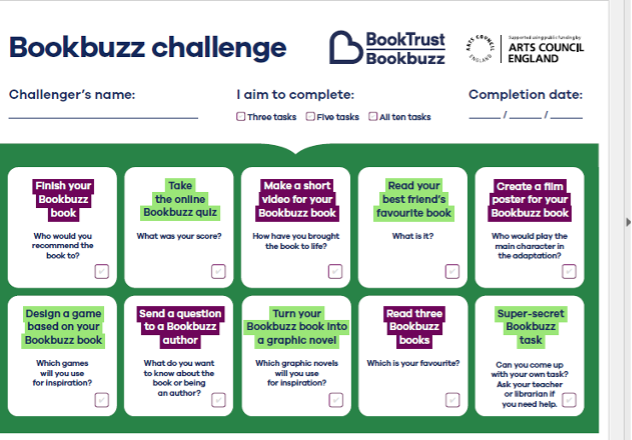 Pupils can also find more information and activities on the Bookbuzz site with a dedicated student zone with competitions to enter, the latest blogs by authors, book reviews by pupils and the chance to complete a quiz. Check out the site!