On Thursday 2nd March Etone celebrated World Book Day. As is tradition the day started with the greeting of a wonderful selection of characters from the staff including Dr Suess's Thing 1 and 2, Wednesday from the Adam's Family, and of course our very own BFG. 
Following this our pupils were then challenged to take part in some investigative work as they looked to identify the secret readers behind the books. Check them out here and see if you can name which members of staff are enjoying each book.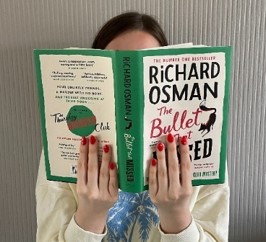 With the return of our 'Guess the Book Shelf' competition and the chance to use their World Book Day voucher it has been wonderful to share the joys of reading with our pupils and promote the importance of reading for fun.
Alongside World Book Day, each tutor group in KS3 has been challenged to see how many texts they can read from around the world. They will be travelling around the world through a variety of texts; from America, Asia, Europe, England and Australia. This will hopefully give pupils a wider understanding of different countries. They can do this through a variety of texts (and audio books!).